The FACCSF in partnership with Challenges is glad to introduce the 2nd live panel session of the series: France Vs. California what's next?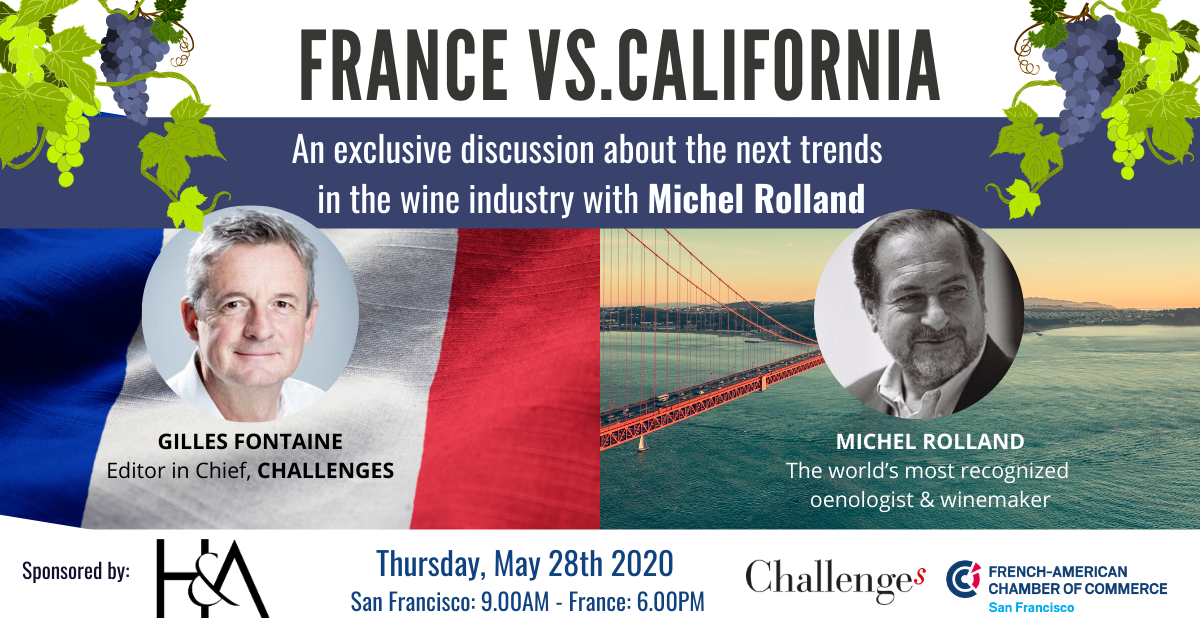 2nd Edition
France Vs. California: what's next in the wine industry?  
By Michel Rolland, the world's most recognized oenologist & winemaker

>>> Thursday, May 28th 2020 <<<  
San Francisco: 9.00 AM / France: 6.00 PM
What are the next trends in the wine industry in France and in California?

France is one of the largest producers in the world. Wine is considered as part of the country's social identity.
The U.S. is the fourth-biggest wine producing nation on the planet right after France, Spain, and Italy. California, also known as the "new world" in wine (wine regions of Napa, Sonoma, Mendocino, Paso Robles..) is the leading wine producing state in the country.  

** What are the trends and predictions on both sides of the Atlantic? **

For this 2nd Edition, co-organized with Challenges magazine and supported by H&A, we have the honor to invite you to join an exclusive discussion between the world's most recognized oenologist & winemaker Michel Rolland and Gilles Fontaine, editor in chief at Challenges magazine.

Among many topics, Michel Rolland will share his opinion on the following questions:
How is the crisis currently impacting the wine business? Has the wine consumption been transformed? How wineries are pivoting their businesses?
Marketing and sales strategy in the wine industry: what are the differences between both ecosystems?
Emerging wine regions: who are the key players? Who is leading the race?
How is technology transforming the wine industry?...
This panel is organized in partnership with​​​

It will be moderated by its Editor in Chief: Gilles Fontaine
About our speaker: 
Michel Rolland 
The world's most recognized oenologist & winemaker  
Having grown up near Libourne, half an hour east of Bordeaux, Michel Rolland has become the most consulted and most acclaimed oenologist on the planet, making wines that appeal and accede to the highest ranks in classifications. Born to a family of winegrowers, he was destined to take over the estate, but his ambitions were higher: he wanted to understand the secret of great vintages.
Since the 1960's he has been behind major changes in winemaking and vine husbandry, which he has promoted around the world. Today, the Rolland laboratory has seven employees and four hundred estates, which come for analyses and advice. Nicknamed "the king of blending", Michel Rolland is passionate about every new project.
>>> Thursday, May 28th 2020 <<<  
San Francisco: 9.00 AM / France: 6.00 PM
When
May 28th, 2020 9:00 AM through 10:00 AM